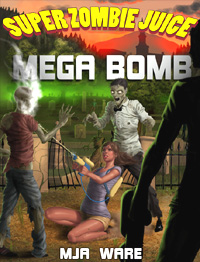 Well, it's finally here: The official release day for
Super Zombie Juice Mega Bomb
. I have two reviews up already and a few more on the way.
The ebook is available at
Amazon
,
B&N
,
SmashWords
and
Apple
(or my
website
). I have it on sale everywhere for just 99
¢,
except B&N,
until the end of the month.
If you are short on change, I'm giving away 6 copies over at GoodReads. The contest ends 9/22. Speaking of giveaways, I'm going to be doing a blog tour and giveaways all throughout the month of October. Each stop will have a print copy of the book (so, they'll be lots of chances to win). Plus, I'm giving out five zombie survival kits (more on those later). I'm still looking for a few more blogs to host the tour, so e-mail me (mikejware@gmail.com) if you are interested.
If you like to actually hold your books, the print version should be available right around October 1st. Don't forget, you can read a 5 chapter preview with my free ebook Monster In The Mirror (for kindle, B&N)