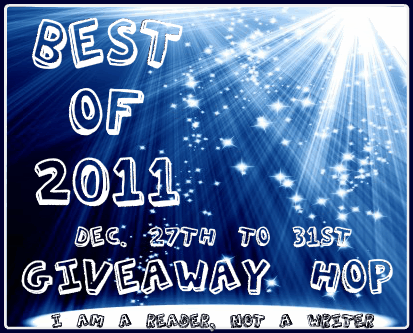 I'm thrilled to be part of the
I am a Reader, not a Writer - Best of 2011 Giveaway Blog Hop
. I had a terrible time selecting the "best" book I've read this year. So, I've chosen three great books. The contest winner can pick the one they would like:
The Supernaturalist (hardback)
by Eoin Colfer. Colfer is best known for his
Artemis Fowl
series. While that's a good series, frankly, I think
The Supernaturalist
is so much better. Maybe, it hasn't found more popularity because it's aimed at male teenage readers (elusive creatures, indeed). Read my Goodreads review
here
.
Ender's Game (paperback) by Orson Scott Card is an adult book, but the MC is a Middle Grade boy and it's another great book for the teen reader. It's Orson Scott Card's most famous novel and a great choice for any kids who's outgrowing more juvenile, MG sci-fi.
The Tiger Rising (paperback) by Kate Dicamillo proves that DiCamillo is truly an artist. If the other two books made you go, yuck sci-fi then pick this one. It's a magical book about a boy and girl who find a Tiger--but it's really so much more.
Or course the winner will also get a signed copy of Super Zombie Juice Mega Bomb. All the books have been gently read, but are in almost new condition. I'll ship the two books anywhere in the US that the postal service will deliver to (P.O. boxes are fine).

A winner will be picked on or around Jan 1st 2012; only the winner's first name and last initial will be posted, but the winner must provide a complete name and shipping address.